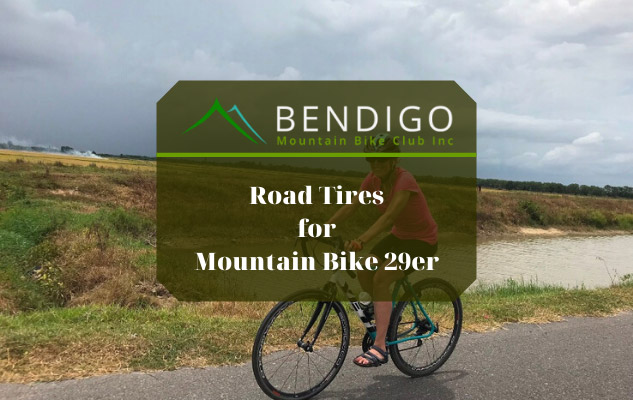 Best Road Tires for Mountain Bike 29er Reviews
* Products recommended in the post contain affiliate links. If you purchase something through our posts, we may receive a commission at no extra charge to you. See our full disclosures here.
Mountain bikes come with traditional knobby tires suitable for off roads. These tires do not work well on smooth or grainy roads as they wear off quickly. Besides, they roll slower, making it hard to ride on asphalt roads.
The good this is that there are road tires designed to transform 29er mountain bikes into the versatile bicycle for regular road use. Here is everything you need to know to pick the best road tires for mountain bike 29er
Our Top Pick Best Road Tires for Mountain Bike 29er
Features to consider for the Best Road Tires for Mountain Bike 29er
Before we look at the top products to buy, let's first check the essential features to consider:
Bead/sidewall
Although no rider wants to have a punctured tire, sometimes it happens, which calls for replacement. Thus, the tire chosen should be easy to remove with less hassle.
Puncture protection
The casing determines how easy the tire gets punctures when on the road. Though the streets present less risk compared to off-road, preventing tear is a significant concern among the riders. Look for those made of quality materials such as cotton or silk with high threads per inch (TPI) for decreased rolling resistance.
Durability
There are tires made of soft and hard compounds. Softer ones provide firm grip but won't last for long in the rough road while the hard types are durable but have less traction. To strike a balance, one should go for multi-compound tires to work well in both smooth and grainy roads.
Width
Mountain bikes are known to have wide rims, and thus wider tires that fit well should be chosen. Proper width prevents tires from coming off while increasing the rolling speed desired while riding on the road.
Type of road tire
The type of road tire should be considered when choosing one for mountain bikes. They include clincher tires, tubular tires, and tubeless tires.
Clincher tires are very easy to replace and come with a separate casing that houses the inner tube. They are either folding or non-folding. Folding is foldable, making it easy to store and transport when not in use. Besides, they are easier to get them off the rim and are lighter but expensive.
Tubular uses inner tube but are different from clincher due to their construction. The casing is sewn, unlike in clinchers types which are open. They also have to be glued to the rim and thus can even be ridden when flat. However, it may difficult to repair punctures.
The tubeless, on the other hand, do not use inner tubes. The wheels seals to the rim, becoming airtight, thus remain inflated without a tube. They can be ridden on low pressure providing a superior grip on all road types. The challenge comes when fixing the tires, as it is challenging to set it on the rim. Besides, they are a little heavier due to their casing.
Benefits of road tires for mountain bikes 29er
Getting a road tire for your mountain bikes open up the opportunity of riding on asphalt roads with ease. Here are the key benefits that riders enjoy doing away with the old tire that come with mountain bikes.
Increased rolling speed
Larger road tires have less resistance compared to smaller wheels. This results in a smooth and fast ride that conserves your energy. Besides, the road tires are thinner compared to their mountain type counterparts that result in less contact and friction for fast cycling.
Easy maneuverability
The road tires have a higher pressure, thus squish less, making riding on smooth and grainy road much more comfortable. Riding on asphalt road with mountain bike tires can be tiring as they tend to have more friction with more contact that makes it challenging to maneuver even when negotiating bends.
Road Tires for Mountain Bikes 29er Best Suggestions for You
Now that you have known the features to consider; it is the right time to get the best road tire for your mountain bike 29er. Here are the top 5 suggestions that can be ordered on Amazon anywhere anytime:
Sale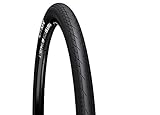 WTB Slick 29 x 2.2 Comp Tire, Black
Smooth centerline minimizes rolling resistance.
Outer grooves provide cornering traction and water evacuation.
Ideal for those who commute year-round, regardless of the weather.
Distance compound/ durable casing/ wire bead
29" x 2. 2"
If you are an all-weather commuter for all year round, then the WTB Slick Comp tire is a perfect choice. The tire can perform well in smooth and grainy roads due to its strength while weighing only 540g. There is enhanced control even in wet conditions as a result of deep outer grooves with rolling efficiency from the smooth center utilized by the slick.
Despite coming at an affordable price, the tire is made of durable impervious DNA rubber that lasts you longer on the road. Besides, it is a tube-type tire with a wire bead for strength and proper retention. Thus, it won't come off the rim.
Sale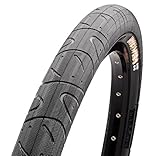 Maxxis - Hookworm Wire Clincher Tire | 29 x 2.5 | Single | Black
HOOKWORM: As the original urban assault tire, we designed the Hookworm to take the abuses of the most aggressive street riders.
TREAD: Bead-to-bead tread provides durability and traction whether you're dropping staircases, grinding rails or riding in your local skate park.
SINGLE COMPOUND: One compound throughout the tread optimized for longevity and performance. 60 TPI Casing.
VERSITALE TIRE: In addition to BMX, the Hookworm is also a great solution for cargo bikes, pedicabs, or any application where a tough tire is needed.
LIMITED WARRANTY: Tire will be free from defect in material and workmanship for up to one year from date of purchase or until there is no serviceable original tread depth (as determined at the...
This is a fantastic tire designed for riders who love to ride super aggressively on street roads. The tire has bead-to-bead tread that offers traction and durability regardless of the street type. It can perform well on grainy rails, smooth roads, down the staircase and any other local skate park.
The 60Tpi casing enhances the bike's strength while providing the much-needed grip. The sidewall is protected with a rim to rim tread that prevents puncture even when riding on grainy roads. Besides, the tires are easy to install as long as you get the right inner tubes. Get it and enjoy a smooth and faster ride on asphalt road using your mountain bike.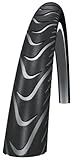 Forget about frequent punctures with Marathon Supreme HS 382 HD. The HD speed guard protects the tires against any tear while you ride on any road. You get a maximum grip even on wet and slippery roads due Road star triple compound used on tires. They remain sportiest and lightest in line with marathon EVO.
The tire is foldable, making storage and transport easier when not in use. Besides, it has LiteSkin sidewalls that reduce rolling resistance while saving weight. This results in a smooth and faster ride on flat and grainy roads. Though expensive, the premium features are worth every coin spent.
This is one of the best road tires for mountain bike 29er, which can be used on both tube and tubeless bicycles. It is not susceptible to air leakages; thus, one can ride for long without encountering flat wheels. The tire copes well with the most demanding trails due to its alloy construction.
Whether going uphill or downhill, the DT Swiss tackles all with ease. Besides, the product has wide internal dimensions that fit mountain bike rims perfectly well. The double-wall provides a perfect balance between strength and weight, ensuring durability with ease of replacing it. The super performance can be enjoyed on all asphalt roads.
The Schwinn is a trusted brand that has been in the bicycle manufacturing industry since 1895. Their dedication to providing quality bikes and their accessories is seen thorough Schwinn replacement bike tire. The wheels are designed to fit different bike styles, including mountain bicycles.
Riding on paved surfaces is super smooth and fast as a result of unique historic gum wall construction. It offers superior gripping leaving no chance for sliding even on flat roads. Besides, the Kevlar belt under tread middle decreases chances of punctures when riding. Buy one and enjoy freestyle riding due to a high grip from the wheels.
Final Words
When you are done with off-road cycling, it is good to replace the mountain bike wheels with road tires. Riding on mountain bike wheels is challenging on asphalt road as they tend to be thick, creating more contact and friction that slows down the cyclers. Besides, they do not grip well on smoother trails.
Getting the perfect road tires like the ones suggested here, make riding on both smooth and grainy roads much more comfortable and stress-free. The less friction and contact increases the speed of riding while ensuring proper maneuverability on the road. The smooth surface of road tires, unlike the mountain types, provides a firmer grip on asphalt road with less resistance.