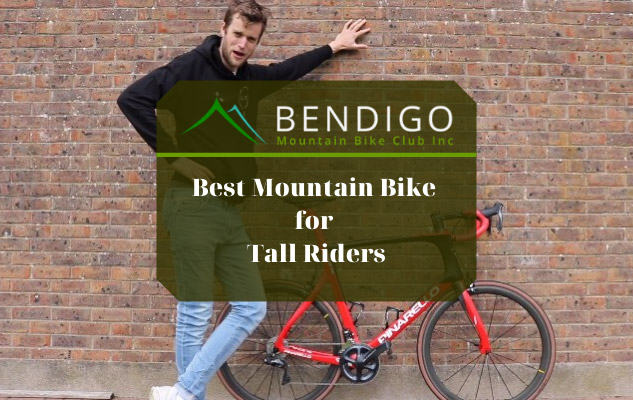 Best Mountain Bike for Tall Riders
* Products recommended in the post contain affiliate links. If you purchase something through our posts, we may receive a commission at no extra charge to you. See our full disclosures here.
It can be very frustrating for tall people to shop around for a bicycle but couldn't find one that fits their requirements. Most bike manufacturers stick to the bell curve and typically max out at XL frame sizes. When it comes to bike options, tall people like you cannot buy bikes "off the rack."
Fortunately, this past decade, your online options have dramatically improved. But even if you have more options to choose from, there are also other factors that you must consider. This article can be your guide to get the best mountain bike for tall riders.
What to look out for when getting the best mountain bike for tall riders
Because of your height, it might be a challenge to find the perfect mountain bike in bike shops. When you go online to find the bike of your dreams, consider the following factors to help you make the best selection:
Bike Frame and Height
Before you start worrying about other features of a mountain bike, whether they would match your height, you must make sure first that the bike frame is the right size. Take some measurements before making a final decision to purchase.
Manufacturers take a lot of considerations when they make bicycles in particular sizes. This is the reason why they create charts that match certain heights to a specific bike size. Before purchasing a bike, determine your height then try to search for a bike chart - there are many online. This helps you identify the mountain bike that's compatible with you in terms of height.
Crank Length
Even if you can find a proportionally-sized bike frame, this might not hold true for the crank length. Bikes - regardless of their size - have nearly identical crank-lengths and that is around 175mm. As a tall cyclist, you won't mind this. You can still pedal around but if you're looking for performance, you might need proportional cranks too.
To help you understand the importance of crank length, consider this analogy. For a tall basketball player, he wouldn't have to bend his knees so much when jumping. Likewise, cranks must allow your knees and hips to move through a range of motion that's similar no matter what your stature is.
The main issue with a longer crank is that it might require a slightly different geometry for the frame and this includes a higher brace at the bottom to prevent clipping the pedal on the ground. Today, there are bikes designed specifically around cranks that are 200mm in length.
Handlebar, Stem, and Inseam
Bikes that have handlebars that are too low might pose a problem for tall riders as you might struggle to control their bikes. This problem can lead to stress on your back and shoulders and this, of course, isn't healthy. You can remedy this by using an angled stem and spacers if you can't find a bicycle with the right stem length and handlebar height.
In biking, the inseam refers to the distance between the top of your thigh and your ankle. The measurement of this determines the length of your legs.
As a tall person, you shouldn't purchase a mountain bike that's either too low or too high for your legs. If you do, you might suffer from cramping in your thighs each time you go cycling. Always take your inseam measurement into consideration.
Wheels and Frame Material
There are several reasons why the scale of the wheel should be in proportion with the frame, the most obvious of which is that it gives a smoother ride to people with a greater mass. It is most likely that taller people weigh heavier than those with an average height.
Thus, you should give special attention to stiffness and frame strength. Titanium and steel frames have an advantage over those made of aluminum because they won't wear down as long as the stress remains under a particular limit.
Top 5 mountain bikes for tall riders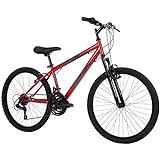 Huffy Stone Mountain Hardtail Mountain Bike, 24 Inch, 21-Speed, Lightweight, Gloss Red (74808)
With a gloss red hardtail frame and 21 speeds to conquer the trails, the Huffy Stone Mountain is ready for outdoor adventures
An Amazon exclusive: Ideal for ages 12-19 and a rider height of 58-70 inches; durable steel frame is backed by our limited lifetime warranty (see owner's manual for details); Kolo 1200 suspension fork...
The indexed Shimano TZ-31 rear derailleur combines with the micro-shift twist shifter to deliver 21 speeds on-demand for uphill climbing, downhill riding, or pure acceleration; removable rear...
24" x 1.95" knobby tires tear into bike paths with ease; linear pull hand brakes deliver consistent stopping action; premium padded ATB saddle has stitched sides for lasting quality; alloy quick...
Slight-rise handlebar enables upright riding to minimize back and shoulder strain; ATB-type resin pedals on the 3-piece Kolo crank have responsive feel; Kraton grips are comfortable to the touch;...
The frame of the Huffy Hardtail Mountain Bike will make each of your trips, either on undulating or straight surfaces, exhilarating by converting pedal power into amazing acceleration. Its ATB saddle as a quick alloy release and a mechanism for height adjustment that's easy to work with.
This bike was specifically designed with a handlebar that is slightly raised to relieve strain on your shoulders and back. As such, it enables you to ride in an upright position. The bike's front suspension makes riding much smoother as it absorbs the bumps you will encounter on uneven tracks.
Together with the knobby tires and the detachable Derailleur Guard, you're guaranteed a quality machine that can tackle declines, inclines, and straights effortlessly.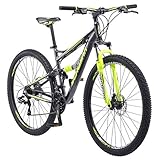 Schwinn Traxion Mens and Womens Mountain Bike, 29-Inch Wheels, 24-Speed Shifters, Full Suspension, Mechanical Disc Brakes, Blue/Grey
Lightweight aluminum frame, full suspension, high-performance suspension fork, effectively absorbs rough terrain and impacts, ensuring a resilient riding encounter
24 speed shifters and front and rear derailleurs make smooth gear changes and make climbing hills easy
Confident and precise stopping power on the trail with the front and rear mechanical disc brakes, delivering crisp and reliable performance in any weather or terrain conditions
Extra-wide double wall alloy rims combine strength and lightness, while the 2.25-inch wide knobby mountain tires are primed for rugged and uneven landscapes
Durable alloy cranks provide steady gearing and less pesky maintenance on your end, arrive 80% assembled, some tools required for assembly
With the Schwinn Traxion Mountain Bike, you can rip through trails or zoom downhills. This is a full-suspension bike that's just waiting for a cyclist to take it out for a ride. The bike features a dual-suspension frame made of aluminum with a sturdy suspension fork and dependable mechanical brakes. The bike handles smoothly and stopping is always efficient and crisp.
Every trail now becomes your new playground with the bike's trigger shifters, rear Derailleur, and the alloy crank. Bumps and thumps get absorbed by the frame and fork to give you powerful riding experience.
With this bike, durability is still highlighted and this is highly due to the high-profile alloy rims with dual walls and the thick, knobby tires designed to take the hardest beating.
The Diamondback Bicycles Release 3 is a full-suspension model that performs well for riding on trails. The lightweight frame made of aluminum makes going up hills much easier and descending them at incredible speeds infinitely more exciting. The frame is also perfectly built for attaching a camera mount if needed.
One of the best things about buying this bike is that it's delivered almost completely assembled. As for the price, it's significantly cheaper than other high-end performance bicycles while still offering almost every feature that more expensive bikes offer. The Diamondback is truly an overall winner for mountain bike enthusiasts, especially for tall riders.
The Raleigh Tokul 1 mountain bike will be an excellent choice for you and others who are 6'4" and over. It comes from Raleigh - a name in bikes that has been around for more than 100 years, thus, making the company the authority on the subject of bikes. Although this is a lightweight bike, it's also a tough one, especially in terms of rocky climbs, jumps, and trail drops.
Yet it can be as easy and smooth to handle. This playful bike has a sturdy aluminum frame that is significantly sleeker and longer than its predecessor. All of these features add up to a bike that can hold its own and can let you open the throttle during weekend trails.
The Max4out 26-inch Mountain Bike has a folding frame designed for easy portability and storage. It has 21-Speed shifters, a rear Derailleur, and a dual-suspension system to reduce impact for smooth riding experience. The 21-speeds can handle hilly terrains and changing gears is both smooth and awesome.
The pull brakes are of alloy and they provide precision in terms of stopping power. The wheels have alloy rims to provide you with lightweight strength on all terrains. These are much safer and provide more speed. The wide and knobby tires that sit on light but tough alloy wheels provide added stability. This bike is perfect for different environments.
Why do you need a mountain bike for tall riders?
Manufacturers today have started catering to bikers like you who are extraordinarily tall. There are certain factors to consider to make your riding experience more comfortable. For one, you have to make adjustments on the bike like the crank, the handlebars, the stem, and other components.
Your comfort and riding position are the most common factors that revolve around the frame size of the bicycle. The first thing that comes to mind is to get the right saddle height. Ideally, the best position would allow a slight bend on your knees when your legs are extended fully at the bottom of the pedal stroke.
A saddle that is too low will find you struggling to get all of the power out of your legs. Conversely, a saddle that is too high will cause your hips to rock from side to side while pedaling. Both situations aren't efficient and worse, might cause injuries.
The importance of comfort isn't absolute but it can be particularly important depending on the cycling discipline you're interested in. But comfort will still play a large role in how much you enjoy the experience of riding.
What may happen if you choose the wrong bike size?
Bike fit isn't, as the saying goes, exactly a rocket science. This means that it doesn't need expensive equipment nor a group of experts to do it. If you need some advice before buying a bike, you can always consult with an expert but that isn't necessary.
This makes more sense if you already are a competitive cyclist as you would know that with a new bike, performance matters. Of course, it's better to select a bike with the correct size so that you won't experience any issues in the future.
With a frame that's too small, you can make adjustments to accommodate your height. You can elevate the seat post, move the saddle, lengthen the stem, and so on. Keep in mind that when you ride a bike that has been poorly adjusted, you're at risk of getting injured.
For instance, a saddle that is too high might cause hyperextension of your knee, pain in the back of your knee, and even saddle sores caused by "rocking" on your bike's saddle. On the other hand, a saddle that is too low can cause knee hyperflexion and pain in your kneecap area. Both these situations aren't ideal as they will make you lose your overall efficiency.
The bottom
line

It may take a lot of effort to find the best mountain bike for a tall person such as yourself. For one, these "oversized" bikes are rarely found in bicycle shops. As a tall person who's interested in cycling, you need to do your research. Even if you find a large bike, you still have to narrow down your options to the best bike that will suit your requirements.

Study your options carefully to ensure that everything - from the rims to the frame - will accommodate your height. The right frame enables you to handle rough terrain and at the same time, give you peace of mind.