How to Remove Snap Ring Without Pliers: Alternative for Snap Ring Pliers
* Products recommended in the post contain affiliate links. If you purchase something through our posts, we may receive a commission at no extra charge to you. See our full disclosures here.
As a cyclist, you may want to learn how to perform simple maintenance procedures. One such procedure is the removal of snap rings. Replacing or removing snap rings can be very difficult, especially without the right tools.
Most snap rings need the use of a snap ring pliers. With this, you simply grip the ring with the two tiny holes at both ends of the clip. But what happens if you own have a snap ring pliers? Worry not, as there are alternative methods you can try.
Use a pair of punches
When you need to remove a snap ring but you discover that you don't own a snap ring pliers, try this method. It might need some practice, but it should work. Here are the steps:
Use a
needle

nose pliers

An easier method is to use a pair of needle nose pliers. Although this doesn't look exactly like a snap ring pliers, it could work as well depending on the size of your snap ring.

If you have a needle nose pliers at home and you don't mind making adjustments to it, grind the pliers' tips down to make the "fingers" that you insert into the holes of your bike's snap ring.

This entails some effort and the end product might not be as effective as a real snap ring pliers - but it is completely doable. If you're looking for a pair of needle nose pliers for this task, here are some other excellent options for you:
Sale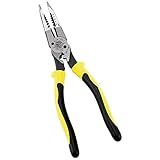 Klein Tools J207-8CR Needle Nose Pliers is one of the most versatile, durable, and comfortable needle nose pliers making it a top pick among craftsmen. It's more than just a pair of pliers as it possesses features that you can use to complete many tasks associated with a needle nose pliers like crimping and stripping wires. They are less of a standard tool but more multi-tool.
This model is strongly built but with special grips for comfort. You can use it with tough jobs even in the dirtiest conditions. You can even use this needle node pliers for repairing jewelry and removing snap rings.

Stanley 89-870 8.5-Inch Long Nose Plier with Cutter
8.5-Inch long nose pliers with cutter used for cutting and grasping or bending small objects
Machined jaws for a slip-resistant grip
Drop forged from high-carbon steel for extra durability
MaxSteel pliers reduce cutting effort by 45-percent, and increase edge life by 33-percent
Meets or exceeds ANSI standards
The Stanley Long Nose Pliers has an 8-inch MaxSteel long nose and a cutter. It's used for bending and grasping small objects, and for cutting. It has an extra-slim design for the head that's perfect for accessing hard-to-reach spaces. Additionally, it features machined jaws for a slip-resistant grip.
The pliers' bilateral grip also offers added comfort. This pair of pliers has induction-hardened cutting edges and a forged construction from high-carbon steel giving it extra durability. This pliers reduces your cutting effort by as much as 45% and increases edge life by up to 33%.
Sale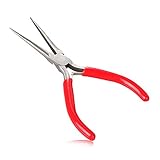 Dykes Needle Nose Pliers Extra Long Needle Nose Plier (6-Inch)
6-inch needle nose pliers with long tempered jaws for working in hard to reach areas, excellent for work in tight places.
Tapered nose with fine tips for bending wire, jewelry making, computers maintenance, electronics repair, small object gripping ect.
Great tool for general, hobby, or craft use, especially useful for jewelry craftsmen, artisans, electricians, and network engineers.
Carbon steel construction for durability; Plastic-dipped handles for added comfort.
Leaf Spring loaded design makes this long nose pliers easier to use and relieve fatigue.
Because of its long and tempered jaws, the Dykes Needle Nose Pliers is ideal for working on tiny objects, bending wires, and working in tight spaces. The tapered nose has fine tips making it perfect for various tasks - even for snap ring removals.
It has a carbon-steel construction that provides long life and durability. The handles are plastic-dipped allowing for added comfort during use. It even has a leaf spring-loaded design making the tool easier to use.
If you're planning to use a needle nose pliers, don't forget to place a rag underneath the piston first so that when you drop the circlip, it won't go into the crankcase. With the needle nose pliers, you can twist the clip just enough until one end gets into the groove.
Then use your fingers and a small, flat screwdriver to finish the job. Finally, place a rag on top of the bore. Make sure that you work in a clean area in case the clip doesn't cooperate. Sometimes, it might even fly across the room!
Why should you learn alternative maintenance skills for your bike?
It's always recommended for cyclists to learn something about your transport, especially the most basic maintenance procedures. This comes in handy when something happens along the road and there is no help in sight.
It's not enough to just know how to ride your bike. You should also know how to maintain it, whether for repairs or just to keep it in top shape. Here are the reasons why DIY maintenance on your bike is essential:
It saves you money
It allows you to practice essential skills and learn more about your bike
It improves your confidence in terms of fixing parts of your bike.
It can be part of your cycling hobby.
Conclusion
Not having a snap ring pliers shouldn't be the end of the road when it comes to removing your bike's snap ring. As you can see, there are alternative methods you can do. By far, the most common solution in the absence of a snap ring pliers is a needle nose pliers. Together with other minor tools, this alternative will get the job done. It might not be as effective, but with a little ingenuity, you can still use this tool to snap the ring out.