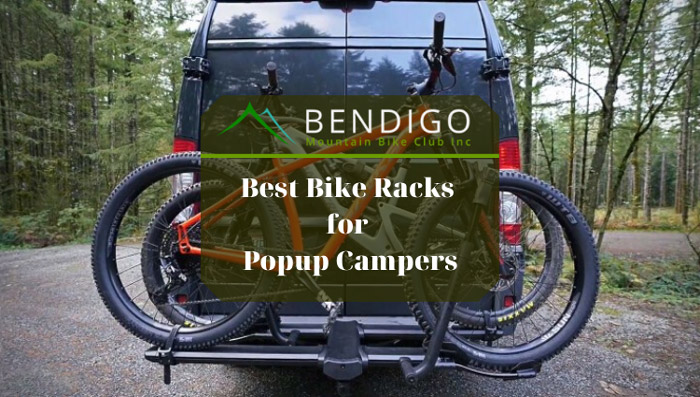 Best Bike Racks for Popup Campers
* Products recommended in the post contain affiliate links. If you purchase something through our posts, we may receive a commission at no extra charge to you. See our full disclosures here.
If you like being out and about camping with your bicycle, getting a bike rack is the most obvious option. You need a bike rack that will hold the number of bicycles needed, therefore family men might require larger loading capacities. There are quite a lot of options regarding the bike racks you can choose from the most well-known brands to generic yet durable ones.
You can choose from the wide range of bike racks available on the internet to attach to the camping vehicle you'll use on the next outdoor adventure. How can you choose the best bike rack for pop up camping? Here is a complete guide on this subject:
What to look out for in a bike rack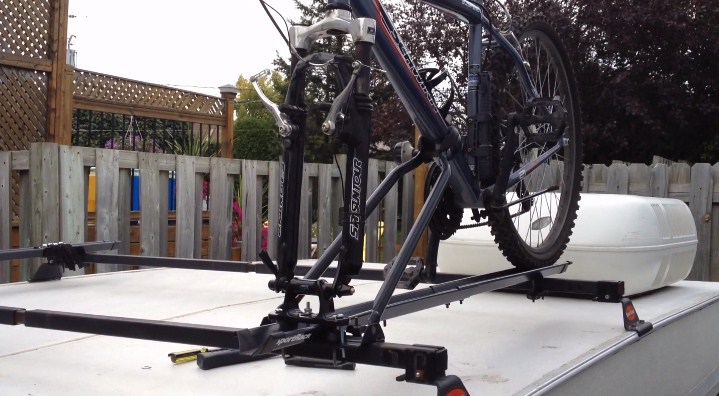 When choosing a bike rack, there are 5 primary considerations you should make and they are related to:
The stability of the rack
Its efficiency
The safety considerations
How compatible is it with the vehicle
If it is secure
Here is how you can assess each one of these points just mentioned:
Stability
The first and foremost considerations you should make is the safety of the bike rack before purchasing it. When you have heavier bikes or larger quantities, durability is very important. You should also ensure that the rack is made of materials that do not easily corrode or get worn off.
Efficiency
You should also consider the efficiency of the rack, like the interference of aerodynamics of the car and parking zones with limited height restrictions. Although that is true, you should also consider the point of how other items are packed in the car. If there is no space on your pickup truck's loading bin, you might need to get an alternative solution.
Safety
The rack should not expose the vehicle to unnecessary accident risks that may be caused by an obstructed view of the rearview mirror. Do not go for a rack that completely hides your license plate with no solution for an alternative place to mount it for the time being.
Compatibility
You need to ensure that the bike rack is compatible with the vehicle used for camping. If you are using an SUV, get the appropriate rack. You should also ensure that the bike rack is compatible with the bikes that will be mounted on it.
Security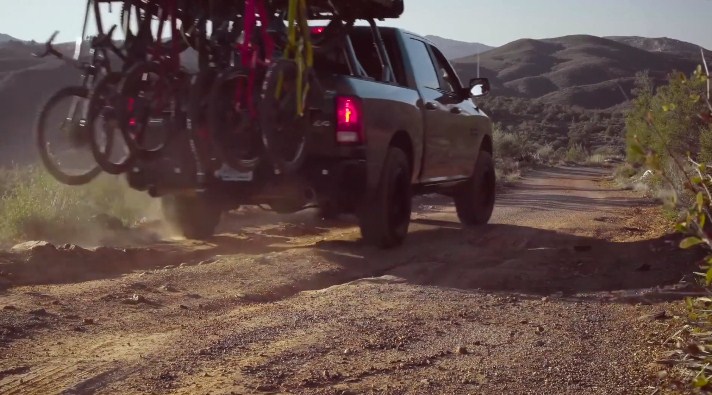 The security of your bikes is very important and should be taken into account. Generally, bike racks come with a lock that can be used to secure it from thieves. The more security options a rack provides, put it at the top of the shortlist.
Top 10 bike racks for pop up camping
#1. Allen Sports 3-Bike Hitch Racks
The Allen Sports 3-Bike Hitch Racks is made of sturdy materials and is not susceptible to bending or swaying in the wrong direction inadvertently. Users can be assured of the product quality because this product has a lifetime warranty. You can use this rack on any vehicle with a 1.25" or 2" trailer hitch. It is very easy to set up this bike rack and it can be done in less than 5 minutes.
The carry arms do not get in the way when they are not in use because they quickly drop down. The rack has a beautiful appearance with a black powder coat finish.
---
#2. Thule Insta-Gater Pro Truck Bed Bike Rack
If you hooked a caravan trailer on your pickup truck's hitch and the loading bin is empty, this bike rack can be used to secure one bicycle at a time. It is very easy to use this bike rack because you can just place it on the loading bin for the bicycle to be in an upright positing.
You can quickly mount a bike with the ratcheting arm and it holds it in place without touching the frame. Therefore, you get no scratches or dents on the frame of the bicycle. The bicycle will be safe with Thule's One-Key system that comes with the lock readily available.
---
#3. Saris Bones Car Bike Rack
The Saris Bones Car Bike Rack works perfectly for any kind of vehicle and is designed for cars with no trailer hitch. You can also mount this bike rack even on vehicles with spoilers making it have robust applications.
The rack is well-known for its wide array of vehicle compatibility. It has a beautiful appearance and strong rust-free frame that are injection-molded. The straps are manufactured using 100% recyclable material but yet look so beautiful and luxurious. You can get a 2, 3, or 4 bike rack of this kind from Saris depending on the number of bikes that need to be racked.
---
#4. Saris Freedom Bike Hitch
The Saris Freedom Bike Hitch carries two bicycles that weigh less than 60lbs each. It attaches to the vehicle's trailer hitch but has a unique tilting function when opening the trunk. For extra security, the bike rack has reflectors for easy visibility and also has integrated locks to secure the bicycles from thieves.
The rack is quite lightweight, weighing only 27lbs making it fuel-saving. Saris provides a lifetime warranty on this product that is made from sturdy materials. If your wheelbase overlaps 50" you can get an external bar for it fit perfectly.
---
#5. Thule Apex XT Bike Hitch Rack
The Thule Apex XT Bike Hitch Rack has a simple design that looks very beautiful on most vehicles even when it is not in use and folded to conserve space. You do not need any tools to mount this rack and that is one of the beauties of it all. The bike rack is very durable and can hold up to 4 bicycles.
The rack is secured on the vehicle and the bicycle is locked onto the carrier making it safe from thieves. You can use this rack to support almost any size or frame style bike.
---
#6. Yakima – Holdup Hitch Mounted Bike Rack
Yakima – Holdup Hitch Mounted Bike Rack is a sophisticated solution to load bicycles for a popup camping trip. The rack comes with a built-in SKS security system that locks both the bikes and the carrier. You can also space the bikes to avoid any interference when driving to the camping site.
It carries 2 bikes but can go all the way up to 4 when using the HoldUp +2 attachment. The rack does not scratch or mark the bicycles but instead protects the paint and carbon frames from any damage. You can tilt the rack with the bicycles loaded to access the trunk of the car.
---
#7. Hollywood Racks – 2-Bike Hitch Mounted Rack
The Hollywood Racks – 2-Bike Hitch Mounted Rack has adjustable wheel holders making it easier to mount different sizes of wheelbases. You can use the rack for 45lbs weighing bikes and when it is being used, the wheel supports fold. If you would like to access the vehicle's trunk, the rack can be tilted.
You can lock your bicycles on the frame of the rack to keep them safe and sound from people who might try to steal them. The rack is not too close to the trunk door so it minimizes the risk of scratching or denting the vehicle when loading or unloading the bikes.
---
#8. Hollywood Racks Fat Tire Electric Bike Rack
If you have an electric bike with fat to wide tires, this rack is the perfect solution when going out camping. The loading capacity is 2 bikes each with a weight of 80lbs per bicycle. The frame allows you to lock your bike in place, deterring any thieves that may attempt to lift the bicycle and run away with it.
When you are not using the rack, it can be folded flat against the vehicle. The rack also tilts when you would like to access the vehicle's trunk. Before mounting electric bikes on this rack, ensure that the batteries are removed and stored in the trunk.
#9. Swagman TRAVELER XC2 RV Bike Rack
Swagman TRAVELER XC2 RV Bike Rack can be assembled and mounted within a few minutes. The rack is lightweight but keeps the bikes stable regardless of the kind of terrain you are driving on. You can attach this bike rack on most types of campers and trailers designed for camping.
The rack can hold two bikes with a weight of 35lbs per bike. It is very easy loading and unloading the bikes and you can gain access to the back of the RV or camper easily by folding the upright bar down. You can mount the rack even on a 4.5" continuous steel welded RV bumper.
---
#10. Rhino Rack Roof Top Hybrid Bike Carrier
Rhino Rack Roof Top Hybrid Bike Carrier is mounted at the top of the vehicle. You can attach this carrier to almost any roof rack in the market. The carrier has straps attached to it securing the bike wheels to stand upright at all times. The front wheel is clamped and secured in place with locking mechanisms.
You can have peace of mind when using this carrier because it has multiple locking systems that keep the bicycle secure. The aluminum materials used on this carrier are durable and resistant to rust. It is recommended to be used for bicycles averaging around 45lbs.
---
Why do you need a bike rack when popup camping?
If you intend on bringing a bike on your camping trip, it is essential to have a bike rack for easier transportation. Even if you do have a pickup truck, all the camping gear will use up all the space that could be used to store the bike. Therefore, you need a bike rack either way when going on a popup camping trip.
If you do not get a bike rack, the bikes might get damaged when traveling or even damage your vehicle. Also, a bike rack makes it easier to access the bikes whenever needed to and it is also a simple process returning them. Thus, you can have mountain biking fun wherever you want and at any given time without worrying about the logistics of removing it from the racks and returning it.
Also, when you have stopped at a nearby restaurant on your way to the camping site, the bikes will be safe and sound from thieves. That is why it is so important to get a safe and secure bike rack that is reliable.
What might happen when choosing a bad bike rack?
If you are wondering what can happen if a bad bike rack is used, there are a lot of things that can go wrong. A bike rack that is not reliable or corrodes easily can compromise its stability. After a short while. the rack might be unusable because you would not be sure when it will break while in transit.
If the frame of the rack is not reliable, it might bend toward the cars and scratch it causing damages that cost a lot of money. Also, when you fail to choose the perfect rack, it might be incompatible with your vehicle or bicycle. Also, getting a bad bike rack can cause problems when removing it for use and returning it afterward.
Alternatively, you might cause accidents if a rack obstructs your rearview mirror view. These are just a few scenarios of things that might happen when choosing a bad bike rack. All of these points outline the importance of getting the best bicycle racks to use when popup camping.
The bottom line
These bike racks designed for popup campers are great solutions to secure your bicycle on almost any type of vehicle when driving to the camping site. It is easy to mount them, they do not require a lot of time when mounting them to the vehicle and they are also very durable. Most of them have beautiful modern designs that will look good on your car.