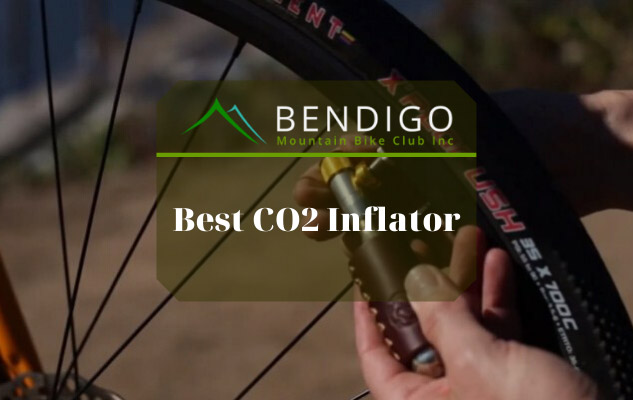 Best CO2 Inflator for Your Bikes
* Products recommended in the post contain affiliate links. If you purchase something through our posts, we may receive a commission at no extra charge to you. See our full disclosures here.
As a cyclist, you don't want to get stranded somewhere because of a flat tire. In such a case, you can either walk home, hitchhike or call a friend to pick you up. You can avoid this kind of situation if you carried with you a CO2 inflator.
This is an affordable, lightweight, and small tool that pumps up flat tires with minimum effort. The quick release of air into the flat tire saves you precious time. Best of all, these devices aren't that expensive. You don't even have to be a professional cyclist to own one.
With a high-performance CO2 inflator, you can enhance the quality of your experience as it gives your bike the appropriate tire pressure. Read on to choose the best CO2 inflator out of the many products on the market.
What to Look Out for When Getting the Best CO2 Inflator
In the past, people only used a CO2 inflator because of its convenience. Today, however, it has become a very popular device for those who need quick inflation. If you decide to get rid of your pump and you need a space-saving, quick way to inflate your tires, here are the pointers for you to consider.
Canisters and Canister Wrappers
Although CO2 inflators mostly come in canisters, not all of them are the same. For one, some have threaded tips whereas others are very smooth. Either of these is okay. Just make sure you purchase compatible canisters.
When you opt for metal canisters, remember that they reach a freezing point as quickly as they discharge the gas. If you used these canisters with bare hands, your fingers might get stuck, which, in turn, causes severe discomfort.
To avoid this from happening, you can wear gloves. Better yet, put a sock over the canister while using it. This serves another purpose – it stops the metal bottle from rattling while you're on the road. You may notice that in some CO2 inflators, part of the design ensures that the kit covers the canister completely.
Ease of Use
All CO2 inflators offer superb ease of use, especially during emergency cases. This ease avoids the loss or damage of cartridges because of poor connections which can be very costly. Before riding your bike, make sure that you know how your CO2 inflator works so that you can use it easily and quickly.
You don't have to spend too much time figuring out how the pump works, especially when you're cold, tired, and stranded. Often, these are the times when you'll get a flat tire. This makes ease of use an important factor to consider.
Weight and Durability
If you take your CO2 inflator with you every time you go biking, it takes up crucial space in your pocket or bag. Additionally, you will also drag the extra weight down and up each hill.
With a small CO2 inflator, it becomes more convenient and easier because of its small size and affordable price. As for durability, just purchase a durable inflator – preferably one that's built to last for years to come.
Pressure Tap or Lever
You may want to consider a CO2 inflator that comes with an off/on valve or a pressure tap that allows you to apply just enough pressure. This feature also means that you won't have to waste a canister after each use.
Although this type of CO2 inflator is a bit more costly, it's more economical in the long-run. With such a device, you can also add a little more air before fitting the tire, thus, reducing the risk of pinch punctures.
Top 5 CO2 Inflators
1. PRO BIKE TOOL CO2 Inflator
This PRO BIKE TOOL CO2 Inflator can inflate your tires in a matter of seconds with its 1-Turn Valve System. The control level operation regulates the release rate of carbon dioxide for inflation that's controlled and precise. This device has a twin-valve head that threads into Schrader or Presta valves so you don't need to switch valve heads.
Its compact size fits perfectly for keeping in a small bag or a pocket. The inflation head has compatibility with threaded cartridges of different sizes. There isn't any danger in getting your fingers frozen when using it.
Although the PRO BIKE TOOL CO2 Inflator is a bit pricey, it's more dependable than cheaper ones which inevitably fail, especially when you need them the most. Its superior quality ensures that you will have an enjoyable and safe ride.
Pros
Includes a foam sleeve made of rubber EVA material to prevent leaks.
Made of high-quality machined aluminum alloy material with precise and durable parts.
Comes with a guarantee of a replacement or refund.
Cons
In some cases, unscrewing the inflator attachment tends to unscrew the valve along with it.
2. Genuine Innovations G20315 CO2 Inflator
The Genuine Innovations G20315 CO2 Inflator uses an easy twist-to-inflate technology that offers easy, controllable, and quick carbon dioxide inflation. Simply thread a cartridge into the CO2 inflator, keep tightening it until you pierce the cartridge, press the nozzle into the valve, and twist the cartridge gently to release the gas inside the tire.
With this device, it only takes a few seconds to inflate your tire for you to ride your bike again. You can use the device with Schrader and Presta valves. Its construction is of a lightweight metal alloy with a compact design so you can carry it with you without it weighing you down.
The Genuine Innovations G20315 CO2 Inflator has a push-to-inflate technology that enables one-handed operation and controlled inflation. It even comes with its own threaded cartridges.
Pros
Compatible with different threaded CO2 cartridges except for the 45g one.
The only inflator that can fit inside aero and disc wheels.
Includes a 20g threaded cartridge and has compatibility with Schrader and Presta valves.
Cons
Some bikers report of inconsistencies with the product's durability but then you don't really expect it to last for years so not a major worry.
3. LEZYNE CO2 Inflator
The LEZYNE CO2 Inflator only works with threaded cartridges and it's easy to use. Just tightly screw in the cartridge, screw the head into the valve, and push the head in to release the air.
You can also use this device on Schrader and Presta valves. It offers easy gas flow control and has a jacket for protecting hands from getting frozen when the canister is in use. It's highly durable with its CNC-machined aluminum construction.
The LEZYNE CO2 Inflator has a Trigger Valve Operation that allows for more precise and easier controlled inflation. The head presses into the valve for quick engagement and it's compatible with all threaded cartridges.
Pros
Compatible with threaded CO2 cartridges.
Compatible with Schrader and Presta valves.
Has a sleeve made of Neoprene material to keep your hands from getting cold while you use it.
Cons
Some minor issue with air leaks.
4. ULFR CO2 Inflator
When you carry the ULFR CO2 Inflator, you don't have to worry about flat tires while on your way to the office or doing your daily ride. This handy kit includes a CO2 Inflator, an insulated sleeve, six tire repair patches, and a ball needle.
Should you have a flat tire, you can easily use the ULFR CO2 Inflator. Seal the 2-1 valve head completely into a Schrader or Presta tire valve, turn the lever in a counter-clockwise direction slowly up to 90 degrees until you reach the desired pressure level, then turn the lever in a clockwise direction back to the OFF position.
As a gesture of the manufacturer's authenticity, they have included free tire patches and a convenient ball needle for you to use for different ball games. These are very handy items if you're into sports too.
Pros
Includes a ball needle and bonus patches too.
A handy device that's lightweight, compact, and highly efficient.
Comes with a warranty that lasts for a lifetime.
Cons
A minor issue of air leaking out while using has been reported by bikers.
5. Portland Design Works CO2 Inflator
The Portland Design Works CO2 Inflator Includes a 16g CO2 cartridge with a sleeve made of stitched leather to protect your hands and reduce the noise while you ride. The leather sleeve only comes in one color.
This device has compatibility with both Schrader and Presta valve types, as well as, threaded cartridges. The Portland Design Works CO2 Inflator features a control knob that allows you to regulate the speed of airflow for more precise results. It's also made of highly durable alloy to ensure a longer life.
Pros
Has a leather sleeve that's dyed using natural waxes and oils.
Made with a highly durable alloy construction.
Comes with a lifetime warranty against product defects.
Cons
Gave out a loud noise but it's reported to have been taken care of by the manufacturer.
What is a CO2 Inflator?
A CO2 inflator is a portable and lightweight tire inflation equipment that you can use as an emergency device in case you get a low or flat tire while traveling. Generally, a CO2 inflator consists of two pieces – an inflator which is also referred to as a nozzle, and a CO2 cartridge that contains carbon dioxide gas.
The flow of air in some CO2 inflators can be manually controlled, thus, making it possible to block the flow of air. However, other models don't have this feature. The CO2 cartridges for this device come in varying sizes including 12g, 16g, and 25g. The design of the smaller models allow them to fill tires up to 90 psi while the bigger ones can provide up to 120 psi.
The CO2 canisters for CO2 inflators come in either smooth or threaded types. When it's time to use the inflator, you have to screw the adaptor head on the cartridge then direct the inflator onto the tire's valve. For the threaded type, you have to twist the inflator onto the cartridge.
For the non-treaded type, you just have to push it down. Do these steps to quickly transfer pressurized CO2 from the cartridge to the tire. Using a CO2 inflator is a convenient inflation option but the cartridges are only for single use. You can use the inflator repeatedly and as such, you have to purchase one that's highly durable.
The CO2 inflator is a convenient tool to carry because of its small, lightweight, and compact design. You can bring it with you when you go biking without having to affect its quality. You can get rid of the frame pump and buy yourself a highly efficient, and portable CO2 inflator.
How does a CO2 inflator work?
A CO2 inflator is a convenient device that helps inflate your tires in case of emergencies. Because of its size, it's handy to carry inside your backpack, pouch or pocket. Moreover, this is more lightweight compared to frame pumps that are a lot bulkier.
Tire pressure has an effect on the quality of your ride and this makes the bike pump essential for every rider. However, the problem with bike pumps is that they weigh a lot and this feature can hamper your smooth ride.
The CO2 inflator effectively deals with this issue because of its aforementioned qualities. But before you purchase a CO2 inflator for yourself, you first have to know how it works.
There is a canister inside where the CO2 gets compressed. To transfer this CO2 from the cartridge to the tubes of the tire, you need an inflator or nozzle. Cartridges are for one-time use and this means that you must perform the transfer correctly on your first try.
Verdict
A CO2 inflator is a compact, lightweight, and portable tool that's reliable and easy to use. While it's true that you can only use the cartridges once, they are very useful to get you on the road again both quickly and effortlessly. If properly used, a CO2 inflator can guarantee a smooth ride after using it in a low or flat tire emergency. It truly is a must-have device for every biker.
If you decide to get yourself a CO2 inflator, you have to choose the best one. There are so many CO2 inflators in the market it can be a challenge to narrow down the choices.
The inflators we have presented here should provide you with some insight into what makes the best CO2 inflator. Make your choice. You can't go wrong by choosing any of the options we have mentioned above.