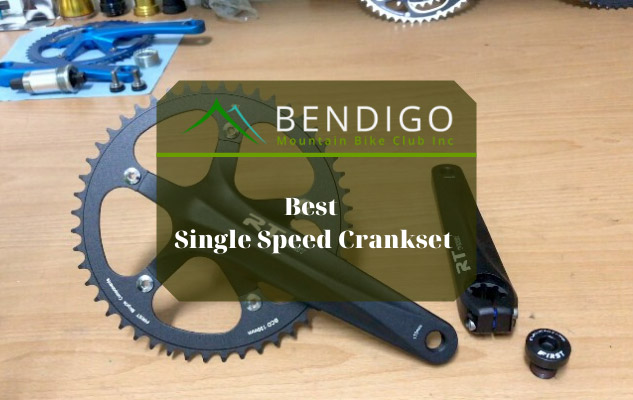 Best Single Speed Crankset
* Products recommended in the post contain affiliate links. If you purchase something through our posts, we may receive a commission at no extra charge to you. See our full disclosures here.
As a cyclist, you should know that when switching to a single speed crankset, you can avoid a lot of mechanical issues. You shouldn't skimp on this bike component for the main reason that it is your bike's drivetrain.
A single speed crankset is a crucial component because it's responsible for converting reciprocating motion into rotational motion, thus, allowing you to move your bike ahead. The crankset helps the single-speed belt or chain push the wheel at the rear.
When properly set up, your bike can accelerate quickly from a standstill position to 20mph in only a couple of pedal strokes. To guide you on choosing the best single crankset for your needs, this article offers you a buying guide along with a list of the best products on the market now.
What to Look Out for When Getting the Best Single Speed Crankset
With the many brands of single speed cranksets available in the market, it won't be that difficult to find an affordable and trustworthy one. But there are certain features you should look out for to ensure that you get the best one for your preferences and needs. Here are some factors for you to consider when choosing this bike part:
Types
There are a few choices when it comes to crank types. The type you choose depends on your bike and the features you need in a single speed crankset.
Design wise, the square taper is the most functional crank and it's technically simple too. This is the most used type as almost all fixes have a cartridge bottom and a square taper crankset. This type if very popular because it's easy to install and maintain.
If you prefer a more sophisticated look, you can go for this type. Another reason why you may choose this type over the square taper is to decrease weight. Integrated single speed cranksets are lighter, more durable, and cooler. These are sturdier because they have bigger external bearings.
Not all types of single speed cranksets work with all types of bikes. For instance, this type is primarily designed for track bikes and they offer superb speed and performance.
Tooth Count
Different cranksets can have different chaining tooth counts. Tooth count is the number of tiny teeth that the chain will hook-up on. This feature is a very important factor. Adding more teeth makes your bike more difficult to pedal while going uphill but it will go significantly faster on straight roads.
If you frequently ride on hilly terrains and steep inclines, it's better for you to choose a smaller chainring with a low tooth count. For increased speed and flat areas, a higher tooth count performs better. The most common ratio is about 16 – 17 teeth on the rear cog and 42 – 44 teeth on the chainring in front.
Arm Length
As with the tooth count, there are also different cranks for different arm lengths. There are two main reasons why crank arm length matters. First, is your speed and the second reason has something to do with knee pain. A longer arm enables you to go faster while paddling with less effort. Although this makes gearing easier, you have to watch your pedal stroke.
With a shorter crank arm. you can ride at a faster cadence while reducing the risk of developing pedal stroke. On the downside, you reduce your power compared to longer arms. Shorter crank arms are also recommended if you experience knee pain. The length of the crank arm is one of the main culprits for recurring knee pain. The wrong length generally causes this.
Brand
When buying a single speed crankset, choose one with a reputable brand name so you don't get disappointed. Today, there are so many manufacturers of bicycle parts, the majority of which are in Taiwan and China. There is nothing wrong with that as most bike parts come from those countries anyway.
The problem is that unknown brands typically cut corners on specifications – from using cheap quality materials, inconsistent or finished products or shoddy alignments. All of these factors add up to a likely scenario where the bike part you purchase ends up failing you.
Top 5 Single Speed Cranksets
#1. Retrospec Single-Speed Crankset
The Restrospec Single Speed Crankset is one of the best fixed gear cranksets and it comes in different colors. It's perfect if you're looking to build a fixie as you can save money without having to compromise anything. This is also the best crankset if you intend to upgrade the drivetrain of your road bike.
Any way you look at the Restrospec Single Speed Crankset, it's an excellent choice since it combines steel chaining with a light crankset made of aluminum alloy. This combination makes the chainring more durable.
The crankset consists of parts pieces and it comes in three sizes – 46T, 48T, and 44T. This is a great feature as it gives you a wide range of options, thus, allowing you to select the best size to suit your riding style. The crank arm is 170mm in length making it suitable for most types of riders.
Pros
Features an all-new design for the crank arm that's much stronger.
Lightweight and burly for superior reliability and strength.
Comes in a wide range of colors (black, blue, chrome, lime green, orange, red, white, and yellow).
Cons
Some issues because of the painted threads.
---
#2. CYSKY Single Speed Crankset
The CYSKY Single Speed Crankset is one of the most popular models among cyclists because of its superior quality. The manufacturer's primary purpose for their product is to offer strength and durability. This product comes with everything that you need to ensure excellent output. Investing in this model might be your best decision for the year!
This crankset enables you to ride efficiently on any kind of road. Your bike will travel smoothly requiring only a minimum effort. The crankset alone can decrease the maintenance costs of your bike.
The CYSKY Single Speed Crankset is of aluminum alloy 7075-T6 making it denser but still lightweight enough to perform at its best. Aside from Single Speed bikes, you can also use this crankset for Fixed-Gear Bikes, Track Road Bikes, and more. It even comes with a cutting surface made of anodized CNC.
Pros
Suitable for different types of bikes.
Offers ultimate durability and strength because of the aluminum alloy material.
It's sleek, stylish, and offers superior performance.
Cons
A couple of users have complained about the given measurements.
---
#3. SRAM S300 Courier Crankset
For a very reasonable price, the SRAM S300 Courier Crankset can be yours for the taking. Aside from offering high durability and superb performance, the crankset has a sleek presentation. It comes in a visually-appealing package. The threads of this crankset come greased but that's the only one – which is an advantage.
Unlike some of the cranksets out there, you won't find excess grease on any of its components. Moreover, it includes washers that fit the crankarms so you won't have to dirty your arms when installing pedals. After installation, you can cycle for miles without worrying about visible wear on your bike's crank. You won't feel flex either. This shows how sturdy the crankset is.
Most of the SRAM S300 Courier Crankset's parts are of plastic, except for the cups on the outside which are of aluminum. The bottom bracket and pedal threads don't have rough edges. The spindles of this single speed crankset are also made of high-quality materials. It has a laser etching that is very clean and that stays on the face of the crank arms even after you use it for a long time.
Pros
It's well-engineered, balanced, and smooth.
It's lightweight and made of durable material to ensure a long life.
Includes a bottom bracket.
Cons
Not suitable if you plan to change your bike's chainring.
---
#4. SHIMANO Altus M311 Single Speed Crankset
With the Shimano FC-M311 Bicycle Crankset, you will elevate your bike's performance. It's a highly functional product that has great compatibility with chaincase for maximum convenience. Additionally, the crankset also has compatibility with 7/8 speed. It requires a 123-mm bottom bracket, which you have to purchase separately.
The Shimano FC-M311 Bicycle Crankset is perfect for you if you're looking for superior performance and ultimate convenience. The integrated design of the chainguard promotes convenience while enhancing the crankset's overall performance. It's even made of light yet high-quality materials so that it doesn't add more weight to your bike.
Pros
Features a chainguard integrated design for added convenience.
Made with a lightweight construction so it won't add to your bike's weight.
Comes in two colors (black and standard) to match the rest of your bike.
Cons
Chainrings may warp after a particular time of use.
---
#5. Pro-Lite Single Speed Crankset
The Pro-Lite Single Speed Crankset comes with the drive side and both of the crank arms. The design of the crankset makes it compatible with the square-taper brackets at the bottom. This crankset has 53 teeth. The bottom bracket is not part of the package, although you can order this from the manufacturer's website.
You need a 68-mm width for your single speed bike. As for the spindle length, that depends on what type of frame you use. The Pro-Lite Single Speed Crankset comes with a protective cover that fits for a single speed bike, a Fixie, a track road bicycle or a Dahon. This crankset weighs around 669g without the BB.
Pros
The crankarm measures 170 mm with a 130 mm diameter bolt circle.
A strong and reliable crankset that has good compatibility with different bikes.
Made of a special aluminum allow that's lightweight and durable.
Cons
You need to install it carefully so you don't bend it.
---
What is a single speed crankset?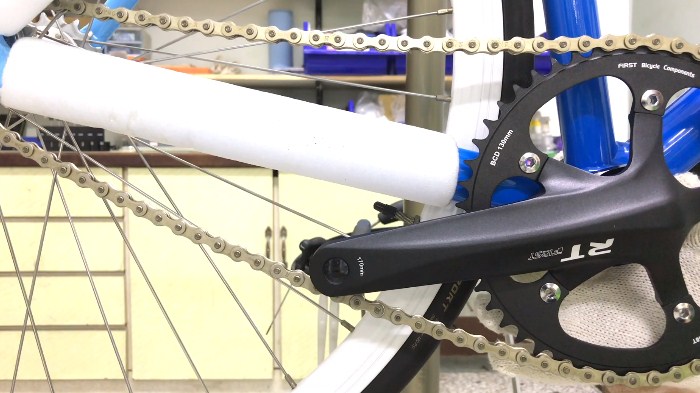 The crankset is a crucial component of a bike's drivetrain. This component is responsible for converting reciprocating motion from your leg into a rotational motion. As such, it helps drive the belt or chain, which, in turn, drives the bike's rear wheels. Unlike the older models, modern crankset products are more advanced and they come with additional features.
If you're looking for a single speed crankset, opt for the modern models. The modern ones have bottom brackets to ensure maximum performance. Most are lightweight which means they do not add weight to your bicycle.
There are a wide variety of single speed cranksets on the market today for every type – square taper, integrated, and track. For you to choose the right crankset, it's important for you to know what you want for your bike.
For instance, you can upgrade a square single speed crankset to an integrated single speed crankset. In such a case, you need to choose wisely by considering the important factors and carefully going through the specifications of different products.
The benefits of using a single-speed crankset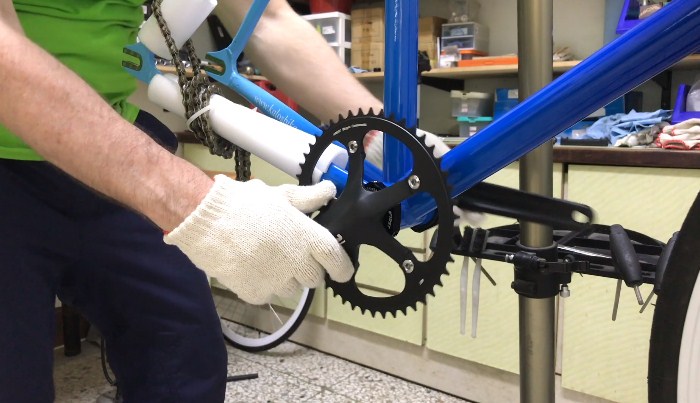 Shifting to a single speed crankset helps you avoid a number of mechanical issues with your bike. But this isn't the only benefit of this essential component. Consider these other benefits that a single speed crankset has to offer:
You won't have to worry about shifters or derailleurs with a single speed crankset. Therefore, you can focus more on what matters most – riding your bike. This makes cycling a fun and simple experience – one that you can't get with other types of cranksets.
You won't have to deal with frequent mechanical problems because single speed cranksets have fewer parts that move.
They are much more affordable and lightweight.
They have very low maintenance costs.
With all of these benefits, it's no surprise that most cyclists, especially those who live in cities with flat roads prefer single speed bikes.
Verdict
The market today offers many brands of single speed cranksets. As a bike owner, you have to choose one carefully. Hopefully, this article helped you make a decision to buy the best single speed crankset based on the important factors. Then you can choose any of the products featured above.
The cranksets here were thoroughly compared and assessed. As such, choosing any of them would be a great buy. Moreover, the produces listed here come in varying sizes and colors giving you the option to customize your bike without much effort.